So, the Edmonton Music awards just happened on June 28th at the Windspear in Edmonton. Celebrating the music of local artists. I was supposed to go, I had a ticket and was up for a Peoples Choice Award but because the end of the month was so insane for me I had to prioritize my Van-Life Conversion and Moving out was much more intense than I anticipated.  So it got me thinking, of all the music in Edmonton and the artists that I look up to. There is one album in particular that seemed to not get any mention and it was a 2017 release.   An album that I picked up about a month ago and have had playing nearly non-stop. The album is by Dana Wylie. The album is The Earth That You're Made Of.
This album is my favorite from 2017.  10 masterful songs that flow together and make you think and FEEL.  If you live in Edmonton and havent heard of Dana Wylie, I strongly suggest you pick up this album and check out her Live ASAP.  I only just found out about her from her most recent release, thanks to CKUA for introducing me to her, and now I have seen her live 2 times and each time was Sooo Good.
I actually experienced her music for the first time by accident. I was at the BIG Dreamer Jam (every Tuesday in Edmonton) when it was being hosted at the Mercury Room back in February. She was one of the artists who got on stage later in the evening. (It may have been the morning now that I think about it) She came on and did her new Single, Hallelujah Leonard Cohen Hallelujah, and she blew me away.  I didn't know who she was, I left right after her performance because it was super late and I was soooo tired but Soooo happy I stayed.    I couldn't stop thinking about her set.  The next day, what song do I hear on the Radio?? Hallelujah Leonard Cohen Hallelujah.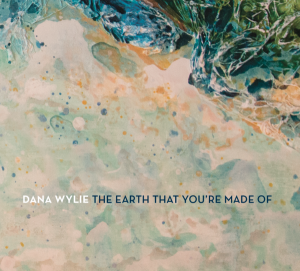 There it is, My pick for Edmonton album of 2017.  For me to call an album the best of an entire year is pretty bold, yet this album is That Good.  There are multiple tracks on it that moved me in more than one way.  And I will shed light on one track in particular.  This track, for me, is the best song out of Edmonton in 2017. Track 4, Ten Thousand Miles.  So many things about this song, not only is Dana's guitar work brilliant, the way she half mutes/half pinches the harmonics at the beginnings of her guitar phrase as if the guitar is broken; I'm not sure what she does but it has such character.  The melodies in this song are perfect and so beautiful. When the harmonies by Ken Stead kick in My heart fills up and I can't help to want to sing along; lyrically this song might just make you ball your eyes out and when you get these two singing together it's absolute magic
If you are from Edmonton and haven't heard of Dana Wylie, I urge you to go get this album.  Support local Music. And if you are reading this and you aren't from around these parts I invite you to take a listen too.  Good Music is Good Music.  I am a proud Edmontonian. The music here lives, and there are many artists right now proving it.
Here is the link to the 2018 EMA outcome.
Here is the Link to the Dana Wylie store
Here is the link to Dana Wylie on Spotify
PEACE
LOVE
LIGHT
Your Brother Braydon