Today marks a stupid-Long time since my last post. It has been a while, I admit. I have been quiet. Learning more about my purpose and the path ahead. I have moved my base camp to Cold Lake where I am involved in several projects. One Project that I have been developing over the past few years is the Breathing Tree, a weapon against Mental Slavery.
I have been diving deep into the breath work and developing my own practice; getting more intimate with myself and sharing my discoveries with others. The Breathing Tree has been a revelation; A doorway to self actualizing, uncovering deep truths, and finding purpose. It is a tool for Vocal Hygiene and developing integrity with the Voice and ultimately creating a practice that develops awareness of the breath, diaphragm and whole body-Mind connection.
Todays quote comes from my Brother Ethan. He is a well established functional Trainer in Edmonton Alberta. Competitive athlete and Bio-Hacking enthusiast. I always enjoy sharing new ideas and talking about natures wonders with him. He acquired his BREATHING TREE about a year ago and has been implementing it into his health routines. Here is what My Breath Brother has to say.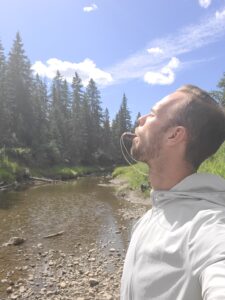 "It's therapy around your neck. Breathing has the ability to instantly change the biochemistry of our bodies. The breathing tree acts as a daily reminder to have a breathing practice and is an extremely easy tool to encourage it!"
– Brother Ethan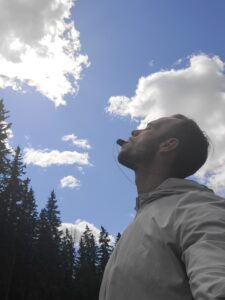 ** if you are curious about THE BREATHING Tree please contact me, braydon@bwmusic.ca and follow my Instagram account @TheBreathingtree **
If you Have Lungs You have the Right to develop their full potential. The Breathing Tree Will help with that and so much more. Become a Warrior. A Breath Warrior. Save yourself from the destructive programing of our traumas and the toxic imprinting of the society we live in. Reprogram your life around the breath, as it was meant to be. Get at me, eradicate the enemy. We all have two wolves, feed the one that will make you strong and live Long. Begin a Breath Practice today, and if you are already practicing Breath Work, try something new, add this tool to your tool kit. A weapon. We are at war, so its time to be a Warrior. For Peace, Love, Connection, understanding and Joy.
Your Brother in Breath
Braydon Wollmann
braydon@bwmusic.ca